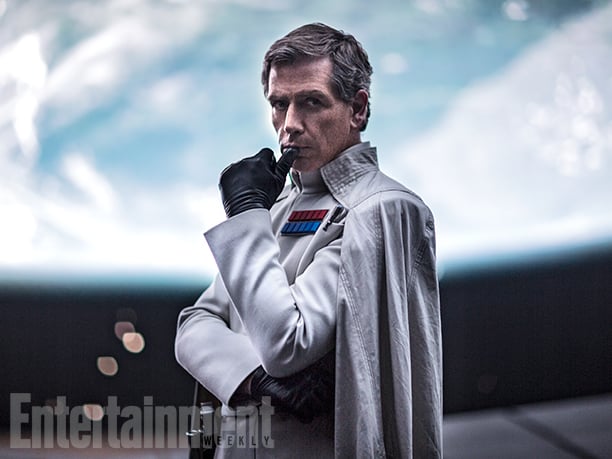 Let's zoom in on some of those Rogue One: A Star Wars Story photos that our friends at Entertainment Weekly released last week. Check out a much closer look via EW here!
Entertainment Weekly has posted LARGE photos from Rogue One: A Star Wars Story. The shots from last week revealed the characters, played by actors Felicity Jones, Forest Whitaker, Donnie Yen, Jiang Wen, Riz Ahmed, Diego Luna, and Ben Mendelsohn. Also, there's is a very good look at one of the cool new droids in the film named K-2SO (played by Alan Tudyk). Now all we need is a close-up of the evil Darth Vader! Well, as Master Qui-Gon Jinn would say: "Patience you must have, my young Padawan"
These new images from the film, showcased a few shots from the tropical planet where an immense action sequence reportedly takes place between the Rebels and the dreaded galactic Empire led by Darth Vader. As stated by producer Kathleen Kennedy earlier in production "Rogue One takes place before the events of Star Wars: A New Hope and will be a departure from the saga films but have elements that are familiar to the Star Wars universe,"
Thanks to EW, fans will now be able to wallpaper their phone, laptop and tablets with the LARGER images which will allow them to show off the new film to their family and friends at work or at home.
Check out a few of them in the LARGE HD format here.
To see even more LARGE photos from Rogue One, head to EW.com. You can also read about some additional characters details there as well.
With Felicity Jones, Ben Mendelsohn, Mads Mikkelsen, Alan Tudyk, Donnie Yen, Forest Whitaker & Diego Luna. Rogue One tells the story of resistance fighters who have united to steal plans to the dreaded Death Star. It's being directed by English filmmaker Gareth Edwards, of the movies Monsters and Godzilla previously. The screenplay is credited to Chris Weitz (About a Boy, The Golden Compass, Cinderella) based on a story by John Knoll and Gary Whitta.
Rogue One: A Star Wars Story hits theaters everywhere starting December 16th.
Source: starwarsnews.net